Website Design Real Estate Agent | Phnom Penh
Miscellaneous

•

Mobile friendly
(click on thumbnails for a larger view)
Yong Yap Real Estate company in Phnom Penh wanted a website that sets it apart from the rest. The homepage (screenshot 1) is a clean and clear design with a picture slider of latest added properties, a search form and buttons with direct links to categories like 'for sale' and 'for rent'.
The category page shows an overview of available properties, by default sorted by latest added, but visitors can choose to order the listed properties by price or by title (screenshot 2).
The properties details page (screenshot 3) shows a large image and thumbnails beneath it to change the picture. On the right side it shows the sangkat where the property is located. This is automatically done via so-called kml files. There's also a contact form for visitors to directly inquire about this listing, that automatically includes the properties reference number.
On the overview pages there is a link called 'Compare'. Visitors can choose 2 properties and see – side by side – the details and features of each property, including pictures (screenshot 4).
The link 'Search by Location' brings a visitor to a map of Phnom Penh with an colourful overlay of the districts in Cambodia's capital (screenshot 5), made using so-called Keyhole Markup Language (KML).
When clicking on one of the sangkat names, the map smoothly zooms in to that particular area and shows a direct link to properties available (screenshot 6).
See the website: www.yongyap.com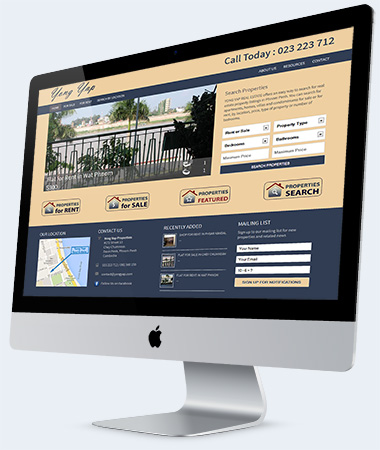 Techniques & Functionalities
CSS3
HTML5
jQuery
Location Map
Product Compare
Slider
Sophisticated Search