Website Design Trainer, Coach, Consultant | The Netherlands
Miscellaneous

•

Special Lay-out
(click on thumbnails for a larger view)
A website for Miep Kesseler, a professional trainer/coach and creative consultant, based in The Netherlands, but working worldwide.
The frontpage (screenshot 1) consists of colorful windows that slide open when clicked on, revealing the content. Different navigation options: clicking on the window or the 'X' in the top right corner brings you back to the homepage layout, clicking on the arrows (left and right) closes the current window and smoothly slides open the next or previous window.
Pictures of Miep Kesseler's work are arranged in a grid style. Hovering over an image darkens the rest and reveals a title (screenshot 2). When clicked on, larger images – and text – open up in a lightbox (screenshot 3).
The site is optimized for mobile viewing as can be seen in screenshot 4. Content is called via AJAX, providing a fast and smooth experience for the visitor. Still, the website is optimized for search engines.
The back-end (for editing) is a simple and lightweight customized Content Management System.
See the website: www.miep4capacity.com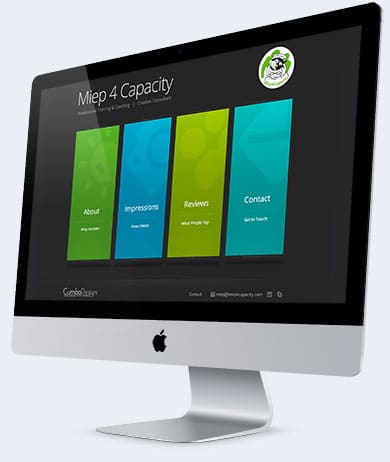 Techniques & Functionalities
AJAX
CSS3
Custom CMS
HTML5
jQuery
Sliding Panels