Website Design Photographer
Miscellaneous

•

Tourism

•

Mobile friendly
(click on thumbnails for a larger view)
Cambodia Images is the website of Siem Reap based photographer Darren Wilch. As many other photographers in the area, he organizes photography tours to the Temples of Angkor and the countryside around. However, he is renowned for his 'out-of-the-ordinary' tours, taking clients to the best places, having an eye for available light, and in‑depth knowledge of the Khmer people and culture.
Of course, this website is very 'visual' having large sliders of Darren's work on the home page and the various portfolio pages. A problem with these large images can be that it slows the loading of the website down, but Cambodesign managed to make them load relatively quickly.
Photography tours are Darren's core business, so there's ample attention to descriptions of these tours, images made during these tours and of course a contact form to easily get in touch.
Potential clients also like to see how others review his photography tours and that can be seen on the 'Reviews' page, which has a so-called 'masonry' design. 'Masonry' is a grid layout, but it doesn't have fixed height rows: the reviews automatically take up available space, depending on screen size.
Darren's latest passion is time-lapse photography, an example full-width video can be seen on the website.
Of course the website automatically adjusts to screen sizes ('responsive' design) and is easily viewable on mobile devices, with a clean, uncluttered menu.
See the website: www.cambodia-images.com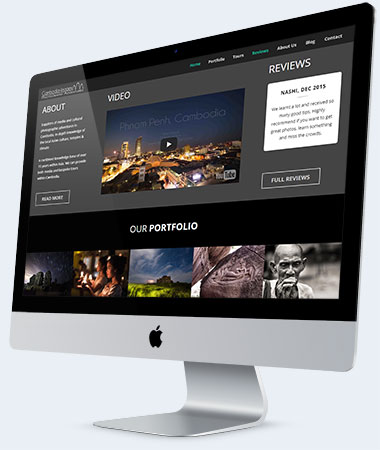 Techniques & Functionalities
AJAX
CSS3
HTML5
jQuery
Masonry
Responsive
Slider
Sliding Panels