Website Design Restaurant + Reservation
Hospitality

•

Tourism

•

Multi-lingual

•

Mobile friendly

•

Online Booking
(click on thumbnails for a larger view)
Many years ago we already made a website design for restaurant frizz (no capital 'f') in Phnom Penh. However, that was before smartphones became popular and optimization for mobiles was not that important. It is important now, of course, so the website needed a complete overhaul and the new version can be navigated easily on mobile devices.
We kept image sliders at the top of the home page, although with new pictures. Immediately underneath is the main draw of the restaurant (delicious Cambodian cuisine), so that it is directly visible on all devices. Plus links to reviews, the menu, and the other activity of the business: the Cambodia Cooking Class (see screenshot 1).
The full Home Page includes a video of the cooking school, a carrousel of reviews and of course the location on Google maps and contact details (screenshot 2).
Besides the full menu, the restaurant offers some specialties that are stylishly presented on separate pages. E.g. Khmer BBQ (screenshot 3). See also the page for the wine list of this restaurant (screenshot 4).
The website includes a table reservation system with an easy to use booking form (screenshot 5). To secure information sent, the website has a so-called 'SSL-certificate'. This not only gives any visitor peace of mind, but nowadays is also a factor in rankings of Google.
The website of this restaurant is bi-lingual (English/Dutch) and of course easily accessible on mobile devices (such as smartphones), see screenshot 6. Or scroll through the devices presented underneath.
See the website: frizz-restaurant.com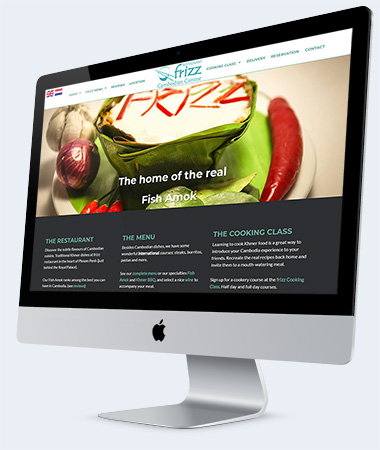 Techniques & Functionalities
AJAX
Bi-Lingual
CSS3
HTML5
jQuery
Lightbox
Location Map
Responsive
Slider
SSL-certificate