Website Design Brand Building Consultancy | The Netherlands
Miscellaneous

•

Special Lay-out

•

Multi-lingual
(click on thumbnails for a larger view)
The Muzes are brand building and event creation / management consultants based in The Netherlands and in Kenya.
The unique Home Page consists of a picture grid and colorful arrows. The picture thumbnails are in gray-scale, but hovering over linked images smoothly fills them with color (screenshot 1). Clicking on a linked image brings up the content in a lightbox with a corresponding border and arrows color (screenshot 2).
The website of the Muzes has a minimalist approach and the tiled layout is consistent throughout the site, also on the page where the couple presents their example cases (screenshot 3). On the blog (or news) page is an automatic feed of their twitter account.
The website uses AJAX, which asynchronously loads (in other words: in the background) the content. However, this can be a problem when you want your content indexed by search engines. CamboDesign tackled that problem and all of the Muzes website is perfectly indexed by Google, Bing and other search engines.
Unfortunately, from the outset the site was not intended to be mobile friendly. However, at a later stage we have developed a complete separate design for mobile phones, but keeping the appearance of 'tiles'. The website is now easily accessible on mobile smartphones (see screenshot 4).
In the second design, we also made this website bi-lingual. It's now available in English and Dutch.
See the website: www.themuzes.nl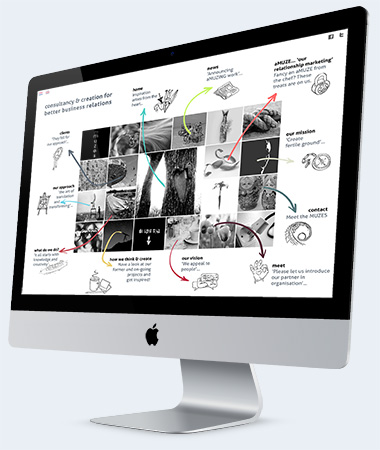 Techniques & Functionalities