Website Design SCIP Online Fund Raising
Miscellaneous

•

Special Lay-out

•

NGO
(click on thumbnails for a larger view)
A fund-raising website to Support Children of Incarcerated Parents (SCIP) in Cambodia, a project by Hagar Foundation. The Home Page consists of sliding images (screenshot 1).
SCIP wanted to have an online 'quilt' which would then be filled by picture thumbnails of people donating to the project. CamboDesign built this quilt with an administrative back-end that automatically scales the pictures to the right dimensions and places the images right on top of the quilt parts (screenshot 2).
Clicking on the quilt images reveals a bigger version of the picture in a lightbox popup.
To streamline the donation payments, we also integrated the website with non-profit payment gateway Razoo (screenshot 3).
To raise awareness of this online donation project, we added social share buttons, accessible via a tab at the left side of every page. The same technique was used for a contact button at the right of every screen.
This online donation project is now finished, so we cannot give you a link to the website anymore, but we hope the screenshots give you an impression of how it worked.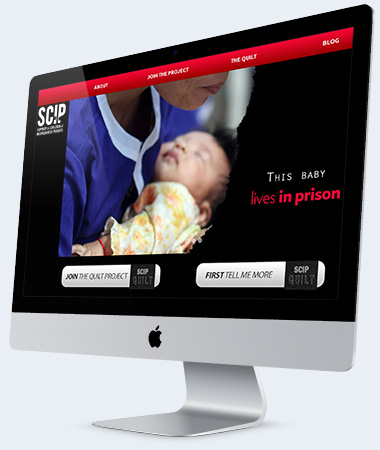 Techniques & Functionalities
AJAX
CSS3
HTML5
jQuery
Online Donations
Slider