Website Design Book Author Webshop
Miscellaneous

•

eCommerce

•

SEO
(click on thumbnails for a larger view)
A complete redesign of the website of acclaimed American-Indian author Richard Crasta. He is the author of the comic novel The Revised Kamasutra, nonfiction and essay collections like Impressing the Whites; Beauty Queens, Children and the Death of Sex, and some semi-fictional works like What We All Need. Few writers come close to Crasta in being funny, witty, satirical and daring–all at the same time.
Crasta sells his books via Amazon, Apple iStore, Barnes & Noble and directly via his own website. On the Home Page we included an attractive slider of Crasta's books and a rotating testimonials widget.
CamboDesign not only overhauled completely the look & feel of the website, but also integrated the site with the aforementioned eCommerce outlets and PayPal. The shopping cart component updates automatically when visitors choose to buy books.
Furthermore we integrated the site with Crasta's Facebook and Twitter profiles, so that his blog writings on the website are automatically published on these social networks.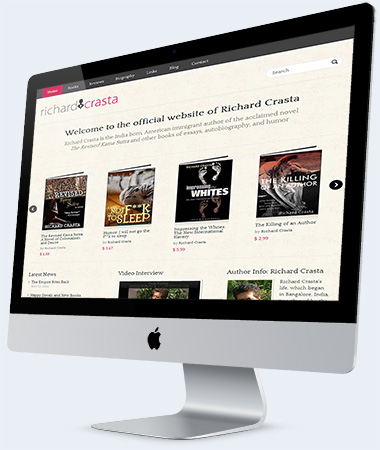 Techniques & Functionalities
jQuery
Online Payments
Slider