Website Design E2STEM Education | Cambodia
Multi-lingual

•

Mobile friendly

•

NGO

•

SEO
(click on thumbnails for a larger view)
E2STEM is an ambitious education programme to train young Cambodians to become STEM (Science, Technology, Engineering, Mathematics) professionals, combined with education in the English language and through E-learning (hence E2STEM). The mission of this NGO is to have 1,000 internationally-recognized graduates by 2028.
The Home Page (screenshot 1) starts with a slider with slogans ("Your Child Can Have a Bright Future", "Get to the Top", and "Transforming Cambodia"). Underneath is an info-graphic depicting the acronym E2STEM in hexagon shapes with icons. At the bottom of the Home Page we have 'embedded' a video from Facebook in which the Cambodian Minister of Education, Youth and Sport signs a Memorandum Of Understanding with E2STEM Education.
The admission process for potential students (and also the recruiting process for teachers) is depicted in a kind of flow chart. CamboDesign has made several custom info-graphics for this website, incl. 'Inquiry Learning Cycle' (screenshot 2) and 'Teacher Competencies' (screenshot 3). These last two info-graphics have been done in both English and Khmer (screenshot 4).
As already indicated above, the website is bi-lingual: all pages, contact forms and most info-graphics are available in English and Khmer. Changing from one language to the other is done through buttons at the top of every page (and in the so-called 'sticky menu'). Compare screenshots 3 and 4. For English headings we use the font 'Montserrat'. We wanted to have a similar 'straight' font for Khmer headings, so we chose to use 'Bayon' for that.
Of course the website includes a Contact Page with their location (on the grounds of Preah Yukunthor High School) on Google Maps and a contact form (screenshot 5).
We don't need to say that all of our website designs are mobile friendly. But to get an idea what it looks like, see screenshot 6 and compare the lay-out of the students admissions process with the desktop version. Same for the Home Page info-graphic and the text for vision, mission and core values underneath (instead of to the right).
Visit website: e2stem.org.kh
Khmer language version: e2stem.org.kh/kh/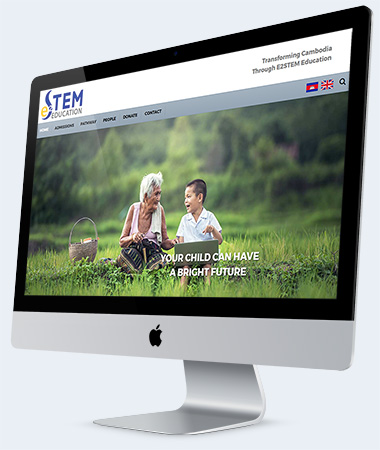 Techniques & Functionalities
AJAX
Bi-Lingual
CSS3
HTML5
jQuery
Location Map
Responsive
Slider