Website Design Mat Vaughan | Australia
Miscellaneous

•

Mobile friendly
(click on thumbnails for a larger view)
Mat Vaughan is an Australian artist. He described his work as:
I am a Melbourne based visual artist interested in responding to objects and to produce artworks that are both spacial as well as 2D. There is some performance and collaboration involved as well.
He wanted a website that would present his ideas and art visually, targeted at other artists, galleries, art collectors (Australian and international) and art enthusiasts.
That's why CamboDesign decided to make the home page a full-screen slideshow (on every screen size!) of the highlights of his work.
The overview of his work is a so-called tiled gallery. When going to the different art installations he has made, you'll see again a full-screen slideshow of that particular idea. For some images (portrait styled), we implemented an automatic 'scrolling down' effect. It gives the website a full visual format.
Mat Vaughan has also some video's of his work in progress, and he wanted them on the website in the same visual style. We opted for tiled images of his video's (on YouTube). When clicking on these video links, they'll pop up on the screen, just like images.
See the website: matvaughan.com.au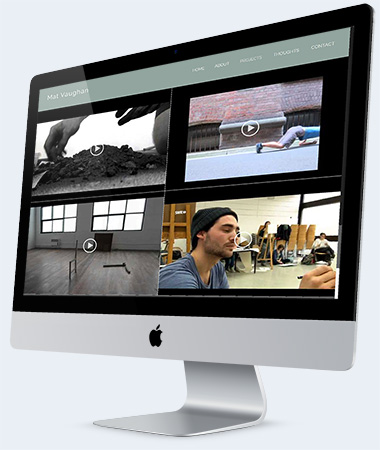 Techniques & Functionalities
CSS3
HTML5
jQuery
Location Map
Sliding Panels