Website Design Pharmacy: only $199
Drugstore, Pharmacy, Medical Products, Health Services
All businesses nowadays need to have an online presence. If potential customers can't find your website, it raises a red flag: they might not trust that your business is real and trustworthy. That goes especially for pharmacies, where trust is – understandably – very important.
In today's world, people search for products and services online and look for important information such as opening hours or a telephone number. And they do that before even walking through the door of your brick-and-mortar drugstore. A website is your pharmacy's digital storefront. Having one is not a luxury, it's a necessity.
This Pharmacy template is simple, but reliable, including customer testimonials which are a great way to build credibility for your pharmacy. You can also showcase the products available in your pharmacy or drugstore, or just the one's on sale or products you want to attract attention for.
This of course is just an example. We will listen to your needs and requirements and build a website that perfectly suits your business and brand. Get online and increase your business today!
Please note: this is a so-called 'catalogue' website, meaning it can showcase your products, but does not include online ordering (eCommerce). If you are looking for that, please fill in our Quotation Form for a website with advanced functionalities.
WHAT IS

INCLUDED?
Five Main Pages
Pop-ups (larger pictures) for images
Max. 20 Product pages, incl. images
Contact Form linked to your email address
Location Map for 1 location
Buttons to a pop-up Contact Form
Responsive: adapting to any screen size
The above indicates what we do when designing your website. You can easily add more pages, posts, images and other content yourself later.
ORDER YOUR WEBSITE
[Wow-Modal-Windows id=2]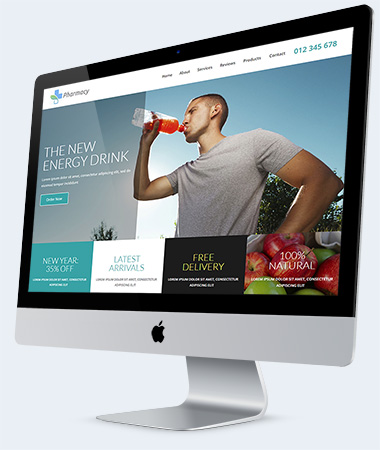 Techniques & Functionalities
AJAX
CSS3
Gallery
HTML5
jQuery
Lightbox
Location Map
Responsive
Slider