Template Website Music Band: only $199
singer, performing artists, theatre groups
The name of this template is Music Band, but it's also suitable for other performing artists or theatre groups. E.g. singers, stand-up comedians, dance groups, choirs or basically anyone performing on stage.
The example we show here is a so-called 'One Page design', meaning when clicking on a menu link the website smoothly scrolls down to the relevant section. After the initial logo with a full-screen background image, there are 5 sections: The Band, Concerts, Albums, Gallery, and Contact. Of course we will adjust these to your specific needs. If you don't like 'One Page', we can split up these sections into separate pages.
Concerts can include a calendar of upcoming performances, incl. a button link to buy tickets (in this basic template that's not included on the website, but can link to a third-party booking service). The same goes for links in the 'Albums' section. These can link to audio files on e.g. SoundCloud or Spotify.
In the last screenshot you can get a feel of how this website looks on mobile phones. All our website designs are what is called 'responsive'.
This is just an example. We will adjust this template exactly to your needs and requirements. Contact us and we can give you a more specific design. The cost for this website is $199.
WHAT IS

INCLUDED?
Five Sections (or Pages)
Pop-ups (larger pictures) for images
Calendar with upcoming events
Max. 20 gallery images
Contact Form linked to your email address
Buttons to a pop-up Contact Form
Responsive: adapting to any screen size
The above indicates what we do when designing your website. You can easily add more content yourself later.
ORDER YOUR WEBSITE
[Wow-Modal-Windows id=2]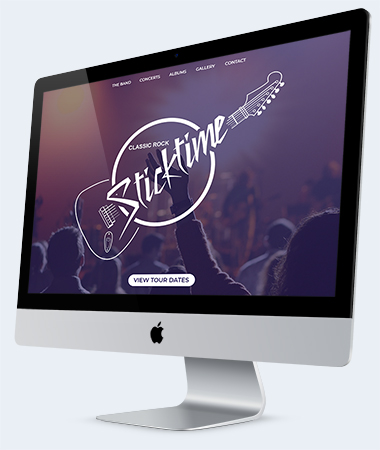 Techniques & Functionalities
CSS3
Event Calendar
Gallery
HTML5
jQuery
Lightbox
One Page
Responsive