Website Design Gym: only $199
Fitness, Workout, Sports Club, Exercise, Yoga
As the name implies, Gym is a website for a Gym, Fitness Center, Sports Club or other services related to Physical Exercise. It can also be adapted to fit Yoga Studios, Yoga Trainers or Yoga Training classes.
New gyms and fitness studios crop up every year and to attract customers you need a great website. This template is perfect to create a stunning landing page and inner pages for your studio, personal training service, group class or anything else.
This website can include trainer profiles, class details, program lists, and photo galleries of your facilities and staff. And of course testimonials of your members. It also features a so-called 'sticky header', meaning the menu stays on top of the screen allowing easy navigation(see screenshot 6).
If you need a stylish, carefully crafted website for your gym, fitness center or exercise club, or if you want to present your services as a personal trainer, look no further: this website is for you.
It only costs $199.
WHAT IS

INCLUDED?
5 Main Pages
Pop-ups (larger pictures) for images
Max. 20 portfolio/products images
Contact Form linked to your email address
Location Map for 1 location
Buttons to a pop-up Contact Form
Responsive: adapting to any screen size
The above indicates what we do when designing your website. You can easily add more pages, posts, images and other content yourself later.
ORDER YOUR WEBSITE
[Wow-Modal-Windows id=2]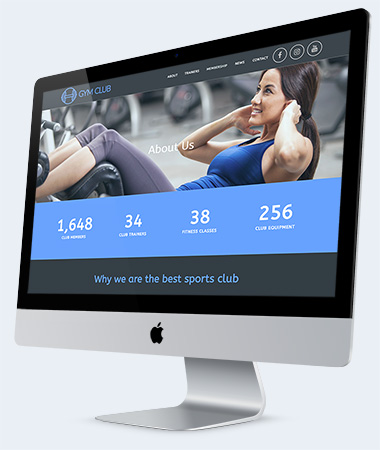 Techniques & Functionalities
AJAX
CSS3
Gallery
HTML5
jQuery
Lightbox
Location Map
Responsive
Slider
Sticky Header