Website Design Restaurant | Phnom Penh
Hospitality

•

Tourism

•

Multi-lingual
(click on thumbnails for a larger view)
frizz (no capital 'f') is a long established restaurant in Phnom Penh, specialized in authentic Khmer cuisine. The website's design has changed regularly, keeping it up-to-date with today's design standards.
As we always try to capture the style and identity of our clients, the frizz website has a clean design with colors matching the color scheme in the restaurant's interior.
The Home Page features an image slider showcasing some items from the restaurant's menu and – in the top right corner – a rotating testimonials widget (see screenshot 1). There is a picture menu on one of the underlying pages (see screenshot 2) with larger versions of the images popping up in a lightbox, and of course a Google Map with the location (screenshot 3).
Speaking about maps: frizz has a good ranking on Google when searching for "restaurant phnom penh", including the address and location on the map (screenshot 4). That result was achieved through CamboDesign's Search Engine Optimization service.
This is the previous design of this website. We have developed a new version, which is better optimized for mobile view.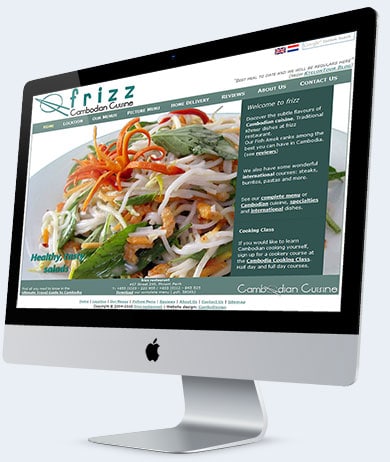 Techniques & Functionalities