Website Design Professional Photographer Angkor
Tourism

•

Multi-lingual

•

Mobile friendly
(click on thumbnails for a larger view)
Ota is an experienced Czech professional photographer based in Siem Reap, Cambodia since 2006. He offers instructional photography tours for those who want to learn more about their cameras, how to improve their skills, pictures and especially about the history of Angkor Empire.
He had a website, but that was coded poorly, didn't work as intended, had an outdated design, was not optimized for speed, and didn't display well on mobile devices. Moreover, his website was not indexed by Google, so it would not show up anywhere in the results, not even on page 118…
So, a total revamp of his website was badly needed, including getting him up in search results. Please understand – as we tell all our clients – when your Search Engine Optimization is bad or in this case even totally absent, you will NOT get to the top immediately. That takes time (think months, not weeks) and effort, from us but from you, too. Sorry, there's no other way. Unlike popular belief, you cannot buy your spot at the top of Google search results, it's simply not possible. And, unlike some other web design or SEO service providers, we are upfront and honest about this.
As a professional photographer Ota had high-quality images available, which we used on the Home Page as a full-screen slider with only a few small items on top of that: the menu, his business name (of course), a language choice button, a link to his portfolio and a link to his photo tours (screenshot 1). The most important assets – his photographs – show up immediately and in full-screen (on every device).
We feel a photographers website should give as much space as possible to the images. That's why we decided to not have a full menu on Ota's website, but a so-called 'hamburger' which – when clicked on – reveals a vertical menu (screenshot 2). Note that this menu includes links to his social media accounts: Facebook, Instagram, Flickr, and YouTube.
What is important for a photographer? His Portfolio, of course: showing your skills. Ota has more than a hundred photos on his website, and we decided to not only organize the Portfolio in a 'masonry' view, but also add filters for the style and/or subject (screenshot 3). Of course these photos – when clicked on – appear in an attractive so-called 'lightbox' (screenshot 4).
Ota's clients for photography tours in Angkor especially attract people from the Czech Republic. Not only because Czech is his native language, but also because they tend to be more interested in knowing more about the history of Angkor (of which Ota has in-depth knowledge), combined with photo opportunities. That's why this website is bi-lingual: English and Czech (screenshot 5).
When a visitor is interested in a Photo Tour and clicks on 'Book this Tour' a contact form shows up (screenshot 6). In the back-end, it's linked to the selected tour, so Ota knows exactly what a visitor is interested in. And yes, these contact forms are fully bi-lingual, too.
Does it display well on mobile devices, incl. phones? Of course, as all our designs do. See e.g. how the Home Page is still a full-screen slider on a smartphone (screenshot 7).
See the website: Ota Photo Tours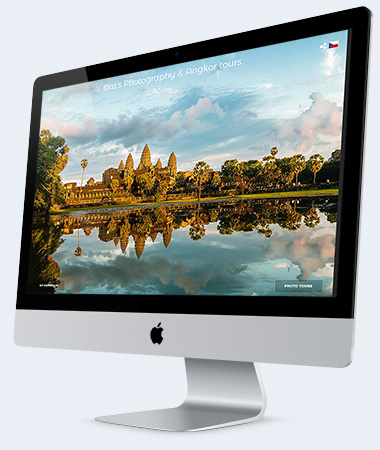 Techniques & Functionalities
AJAX
CSS3
Filters
HTML5
jQuery
Lightbox
Responsive
Slider
SSL-certificate
Sticky Header