Website Design World Ranger Congress
Miscellaneous

•

Mobile friendly

•

NGO

•

Online Booking
(click on thumbnails for a larger view)
The 9th World Ranger Congress (WRC) will take place in November 2019 in Sauraha, Nepal. It's organized by the International Ranger Federation, which wanted a modern website to inform rangers all over the world about the congress, events taking place, themes discussed and of course offer easy online registration.
The Home Page features a beautiful image of a ranger looking out over the African savanna with the text and registration button smoothly fading in, attracting immediate attention to the sign-up procedure (screenshot 1). Underneath are large tiles in 3-3-1 columns with direct links to the main themes of the Congress (screenshot 2). Notice in the last screenshot how these columns automatically change in 100% width on smaller (mobile) devices.
The lay-out of the congress themes page is the same as the 'About Page': attractive full-width background images with the text on a white opacity overlay (screenshot 3).
On the 'Congress Info' page (location, visas, etc.) we included an interactive map with locations of hotels in Sauraha (screenshot 4), which can be booked by rangers at a 5% discount.
For sign-ups to the Congress, Trainings or Workshops we have installed a very well-known WordPress plug-in: WooCommerce. But we've radically changed the design: you don't see anything on the website resembling a 'Product' as would be the case with a standard WooCommerce lay-out. Would you recognize the Trainings Page as WooCommerce 'products'? Note also how available seats are automatically reduced the moment someone signs up for a training (screenshot 5).
What you don't see immediately in the design is what we've done in programming. We have also made some radical changes there to accommodate WRC's needs and requirements. E.g. the check-out page displays different form sections depending on what is in the cart. Only a Congress Registration? Then only the fields that are required for that. Combined with a trainings sign-up? Then a few more fields appear. Only a sign-up for a workshop? Then the congress registration fields are not shown. The payment method chosen (bank transfer or PayPal – credit card) also reveals or hides certain instructional text sections. Furthermore, we have integrated WooCommerce with online donations.
Of course – as with all websites we develop – the World Ranger Congress website automatically adapts to mobile screens (screenshot 6).
See the website: World Ranger Congress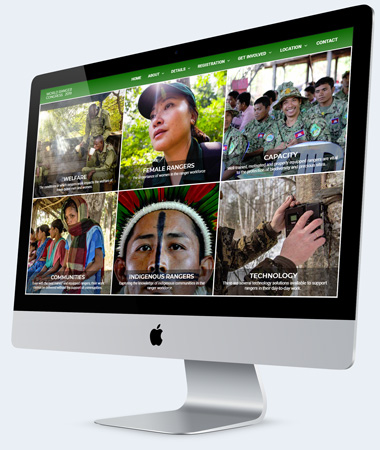 Techniques & Functionalities
AJAX
CSS3
HTML5
jQuery
Location Map
Newsletter
Online Donations
Online Payments
Responsive
SSL-certificate
Sticky Header
WooCommerce