Website Design LPGas Engineering | Phnom Penh
Miscellaneous

•

Mobile friendly

•

SEO
(click on thumbnails for a larger view)
LPGas Engineering is a Phnom Penh based company for designing, installing and maintaining LPG Systems.
Their website is a so-called 'One Page Design', which means that all information can be found on the Home Page. When clicking on a menu item, the page smoothly scrolls down to the relevant section. This can greatly improve the users experience as a visitor doesn't have to wait for the loading of a separate page: all information is immediately available.
However, there's one caveat: as there's only 1 page, there's also just 1 opportunity to be indexed on Google. The way to overcome this is to load the Home Page sections from separate pages, that can be indexed.
A One Page Design can lead to an extremely long Home Page. Not in the case of LPGas. We've done a few things to have all information available, yet not take on a lot of space. E.g. the 'Core Values' of LPGas: Reliability, Safety, Quality, Value. When clicking on a button in the left panel, the relevant information appears via AJAX in the right panel (screenshot 1).
Another example to save space is a bit further down, in the 'Work' section. This is a so-called masonry lay-out of completed project pictures (screenshot 2). When clicking on a picture, a pop-up appears with more images and a little information on the project (screenshot 3).
As with all our designs these days, the website is of course responsive, which means it automatically adjusts to screen sizes, and can be easily accessed on all devices, including tablets and smartphones. Notice the 'Core Values' panels are placed beneath each other on mobiles, and the different lay-out of the masonry grid (screenshot 4).
See the website: lpgas.asia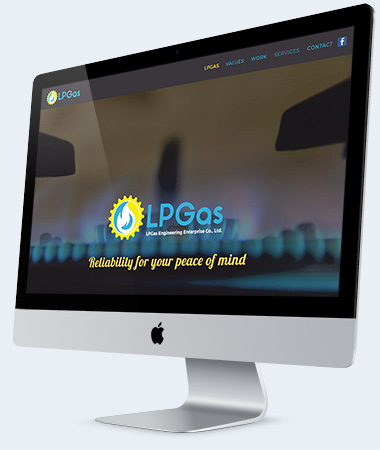 Techniques & Functionalities
AJAX
CSS3
HTML5
jQuery
Lightbox
Masonry
One Page
Responsive