Website Design Furniture Shop | Phnom Penh
Miscellaneous

•

Special Lay-out

•

eCommerce

•

Retail

•

Mobile friendly
(click on thumbnails for a larger view)
POSH is a furniture shop in Phnom Penh with international level of design, quality and service in Cambodia
When entering the website for the first time, a visitor sees a full screen image (on all devices) of the POSH showroom (screenshot 1). Clicking on 'Enter Site' the page smoothly changes – fading in and sliding up – into the full-width home page (screenshot 2). A so-called 'cookie' will remember the visitor, so when browsing through the site and going back to the Home Page, a visitor just sees that page and doesn't have to 're-enter' the website.
POSH specifically asked for a clean, uncluttered, almost minimalist design of the product pages and that's what you see there: a product image (which when clicked on opens in a lightbox), some basic information, an inquiry form and an accordion menu to product categories (screenshot 3).
The website is in so-called 'catalog mode', meaning it's a showcase of products but doesn't include online shopping. However, the system used (WooCommerce) can easily be changed to allow for online purchasing or e-Commerce.
On product overview pages, a 'Quick View' button on the image opens up the product image including details in a pop-up (screenshot 4) and a visitor can easily browse back and forth to see other products within that quick view window.
Furthermore, the website includes a newsletter sign-up system, so POSH can collect details of potential clients and send them special promotions or invitations for events. And of course there's also a location map, including contact form.
Needless to say, as with all our designs these days, the website is responsive, which means it automatically adjusts to screen sizes, and can be easily accessed on all devices, including tablets and smartphones (screenshot 5). The menu, by the way, is 'sticky': it stays on top of the page when scrolling down, which is especially handy on mobile phones, so a visitor doesn't have to scroll back to the top to select other pages.
See the website: posh.com.kh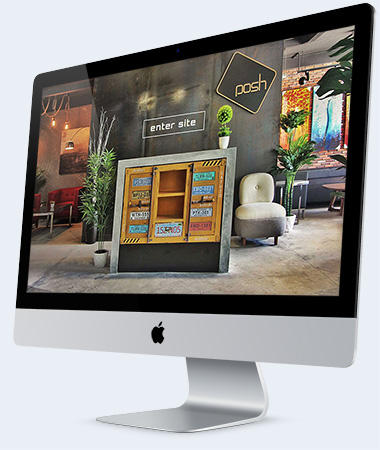 Techniques & Functionalities
AJAX
CSS3
HTML5
jQuery
Lightbox
Location Map
Newsletter
Responsive
Sliding Panels
WooCommerce