Website Design Car Parts Online Shop | Switzerland
eCommerce

•

Multi-lingual
(click on thumbnails for a larger view)
Müller Top Parts is a shop in Switzerland selling car parts (mainly bulbs and other small parts) and some household items. The owner wanted a user friendly, modern and clear website. So we decided to design a home page with just a few items, but a clear menu to navigate to the different product categories (screenshot 1).
The online shop is built on Prestashop, a free eCommerce solution with great features, not only to create an online shop, but also for inventory management, analytics of online sales, and tracking of customers and visitors.
All content below 'the fold' (outside the screen) is only loaded when a visitor scrolls down. This so-called 'lazy load' greatly improves the loading speed of the website. Furthermore, when scrolling down, the content is animated, in other words flows in.
On the product category pages (screenshot 2) a visitor can click 2 or more items to compare their details and features. When clicking on an individual product a so-called 'quick view' pops up in a lightbox (screenshot 3), and underneath is a slider with all the products in the same category.
The interesting thing about this website is not immediately visible: it has a two-tiered pricing system: normal retail prices and wholesale prices. When not logged in, or logged in as a 'normal' customer, you see the regular retail prices. But you can also apply for a 'business' account. The business customers see different (lower) prices. Emails to confirm the business account are automatically send, after the administrator has approved the new business customer. So, this eCommerce website is both a B2C (Business to Consumer) and a B2B (Business to Business) online shop.
Customers can directly pay online; the website is integrated with PayPal payment gateway, allowing visitors to pay from their PayPal account or with a credit card.
As with all our newly developed designs, the online shop is optimized for mobile viewing (screenshot 4). Furthermore, the online shop is bi-lingual (German and French).
See the website: www.top-parts.ch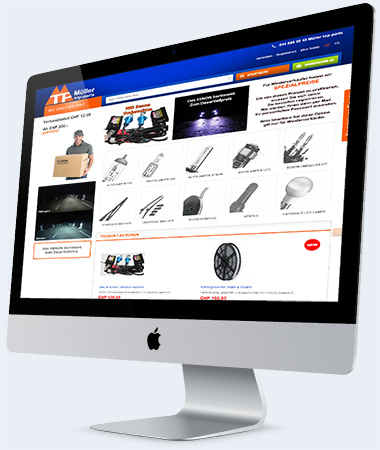 Techniques & Functionalities
AJAX
CSS3
HTML5
jQuery
Location Map
Online Payments
Prestashop
Product Compare
Slider