Website Design Kabrita Formula
Retail

•

Multi-lingual

•

Mobile friendly
(click on thumbnails for a larger view)
Kabrita is a brand of baby and infant formula from The Netherlands based on goat milk, and imported into Cambodia by LMM Distribution. The Cambodian website needed to follow the corporate branding of the Dutch company, and of course be available in both Khmer and English.
The Home Page features a large banner on top with easy 'tile navigation' underneath, linking to the main pages of the website (screenshot 1). The menu on top features round buttons with links to Facebook, the page 'Where to buy in Cambodia?' (a store locator) and the Contact Page. At the right top is the language switcher to choose between English and Khmer. Note in the last screenshot how the Home Page displays on mobile devices: the 'tiles' in the 2-column lay-out are smaller but still very easy for navigation: the whole image block is a clickable link.
On the Product Page, besides the usual gallery, there are three so-called 'tabs' providing the same information as printed on the tins: a description incl. preparation instructions, icons and a responsive feeding table, nutritional values and ingredients (screenshot 2).
Kabrita doesn't sell products on its own website, that's why we've included a store locator, where visitors can find a shop that sells their formula nearby (screenshot 3). This store locator in most cases automatically detects the visitor's location and centers the map at that point. If 'location info' is disabled in a visitor's browser, it's possible to search for a location (e.g. Phnom Penh, Siem Reap, etc.).
On the page 'Why Kabrita?' we've also included a responsive table, comparing this product to other available formulas (screenshot 4). 'Responsive' means that this table automatically adjusts to the size of the screen and is easy to read on even the smallest devices.
Kabrita is available in many countries around the world. To showcase those, we've made an interactive map with all countries where the product is available in green (screenshot 5.
We've already mentioned the display on mobiles of the Home Page. See on screenshot 6 how other pages display on mobile screens.
See the website: Kabrita Cambodia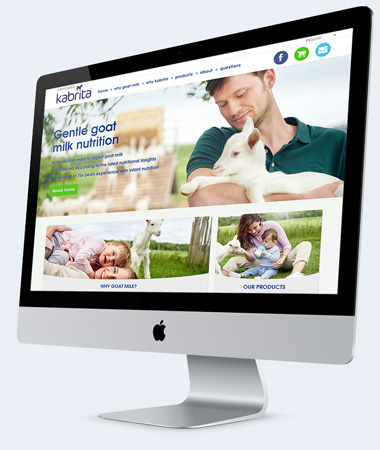 Techniques & Functionalities
AJAX
CSS3
Directory
HTML5
jQuery
Lightbox
Location Map
Newsletter
Responsive
Slider
SSL-certificate
Sticky Header